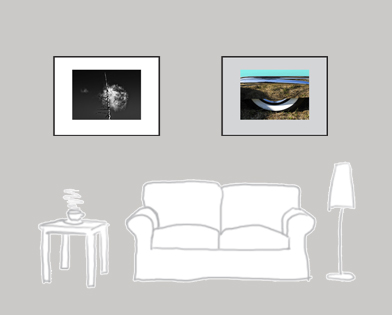 LIMITED EDITIONS?
Most works here are available as 'original' prints. But as I'm not one for slaving over a hot printer or etching press too often and no one else prints my work normally, natural limits are automatically imposed. So, there are no 'limited editions', 'open editions' or any 'editions' – just originals. Pictures are my interest, not my business.
But when I do print, which isn't very often, I use Canson Baryta Photographique paper and Epson UltraChrome K3 inks for the photographic prints. This combination is thought to last a minimum of 75 years or so even unframed. Alternative prints often involve acid-free Fabriano or Hahnemühle etching paper or similar and Akua pigment inks with an occasional splash of Winsor & Newton watercolour, all to promote long life. Prints are normally signed, dated, titled and embossed but not matted or framed.
Prices vary. Apart from the size of the image, there is the question of special supports, for example, if desired. In the case of 'alternative images' it's even more complicated as they are often 'one-offs' in one sense and impossible to reproduce identically. So prices start around the 100 USD area or so for a print that would fit a 40 cm x 30 cm frame with mat such as in the illustration here. Additionally there would be freight charges too. But included in the price would be a small donation to an international charity.
Mail for further details.